The tool you love, now more polished.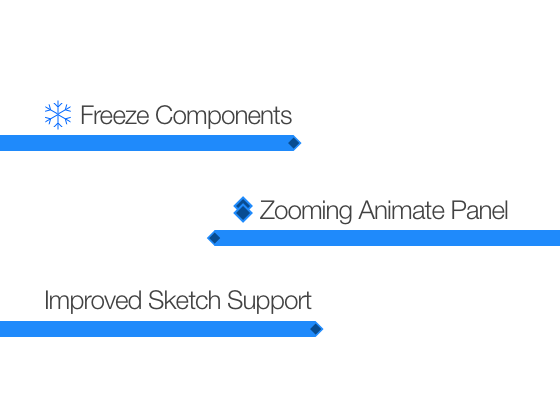 What's new
For 2.1 we focused on addressing common feedback that hasn't fit into previous updates. This will make your day to day more enjoyable and allow us to focus on the bigger changes we have planned for future releases.
If you work on large web or desktop prototypes or you present from Principle, you'll love how the preview window's toolbar hides in fullscreen.
For those making sophisticated designs with components, 2.1 adds the ability to freeze a component's state between transitions. This means if you make a toggle switch component, it can "remember" if it was on or off on the previous artboard. Learn more about frozen properties
The animation panel can now zoom with a pinch gesture or alt+space+drag. Check out all the shortcuts. And keyframes that are very close together will stack; this also works in the Driver panel.
There are many more changes in 2.1 that you'll feel while you work. Things like dramatically improved performance when previewing complex designs, smarter positioning of new layers, better automatic artboard spacing and improved Sketch (re)import will make your work much smoother.
You can see the full list of changes below.
How to get it
If you already have Principle, you can go to the Principle menu then click "Check for Updates". If that is grayed out, just restart Principle and you'll be running the newest version. You can also download the trial from our homepage. Since Principle licenses include one year of free updates, you may need to purchase a new license to use 2.1 if you purchased Principle more than a year ago.
Say Hello
Principle evolves based on the feedback and enthusiasm of the Principle community, made up of people like you. If you have any problems that the documentation and tutorials don't cover, contact us!
All changes
Freezable component State
Preview Toolbar hides when preview is fullscreen
Driver and animation keyframes stack when they're on top of each other
Animation timeline can be zoomed
Artboards are automatically spaced out if you move a layer outside its artboard
Principle is smarter about where it places new and pasted layers on the canvas
Sketch artboards are now imported in the order they are positioned in Sketch's canvas.
Principle is smarter about what artboard size to use when importing from sketch when there are several artboard sizes
New artboards have the same background color as the current artboard
Resizing an artboard will resize all other artboards around the same origin
Performance improvements when previewing complicated designs
Duplicating and grouping layers results in better layer names
Accept drag and drop promises to support compatibility with Sketch 40
Fix an issue that occasionally prevented rewind from resetting preview
Fixed 0% opacity layers importing incorrectly from Sketch
Fixed "play once" for audio and video layers
Fixed color picker's hex field now showing the full hex value
Fixed an issue preventing stepper buttons from appearing in the color picker's RGB values
Fix an issue causing drivers and canvas to get out of sync when undoing
Fixed an issue that caused components to transition to their next artboard too soon when using spring animations
Fixed an issue that could make it difficult to select a layer
Fixed an issue that caused animation info on component instances to be reset when you edited the master component
Fixed an issue that caused components to ignore their animation settings
Fixed an issue causing long animations to continue playing after rewinding the preview window
Ensure only component is selected after clicking "back to parent"
Fixed a memory leak