Today, on Principle's first birthday, we're releasing version 2.0! Principle 2.0 adds Components, and changes how updates work.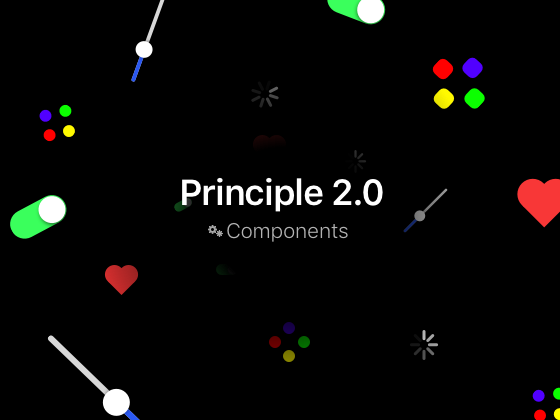 Components
Principle has grown since it was first released 52 weeks ago. We added video layers, audio, shadows, hover events, Sketch import and much more in that short time. As Principle grew, so did the designs that people made with it. For large designs it could become unmanagable to edit files with a huge number of artboards. Components are our solution.
Components are special layers that contain their own artboards, transitions and animations. Designs that used to take dozens of artboards can now be done with one. Button hover states, looping animations, reusable UI libraries and more can all be created with Components. We're very excited about Components and can't wait to see what you will create.
Watch the components tutorial
New Update Model
When we first released Principle we intended to follow the classic "yearly paid major updates, free minor updates" approach. This is problematic for two reasons. First it's unfair to customers that buy software right before a major version is released. Secondly, we'd prefer to release features frequently instead of saving them for a major release. So to fix these problems, we're transitioning from free minor updates to free updates released within a year of purchase. Just like before, you can continue to use Principle after the free updates end. If you'd like to get updates after your year is up, you can purchase a new license.
How does this work for existing customers? Because it's been less than a year since 1.0, all existing customers get 2.0 for free! Just check for updates to get it. You will get future updates as long as they come out within a year of your original purchase date.
We rely on word of mouth to spread Principle, so if you love 2.0, tell your fellow designers, make a cool tutorial, or share something about it on Dribbble. If you have questions, email us at hello@principleformac.com.